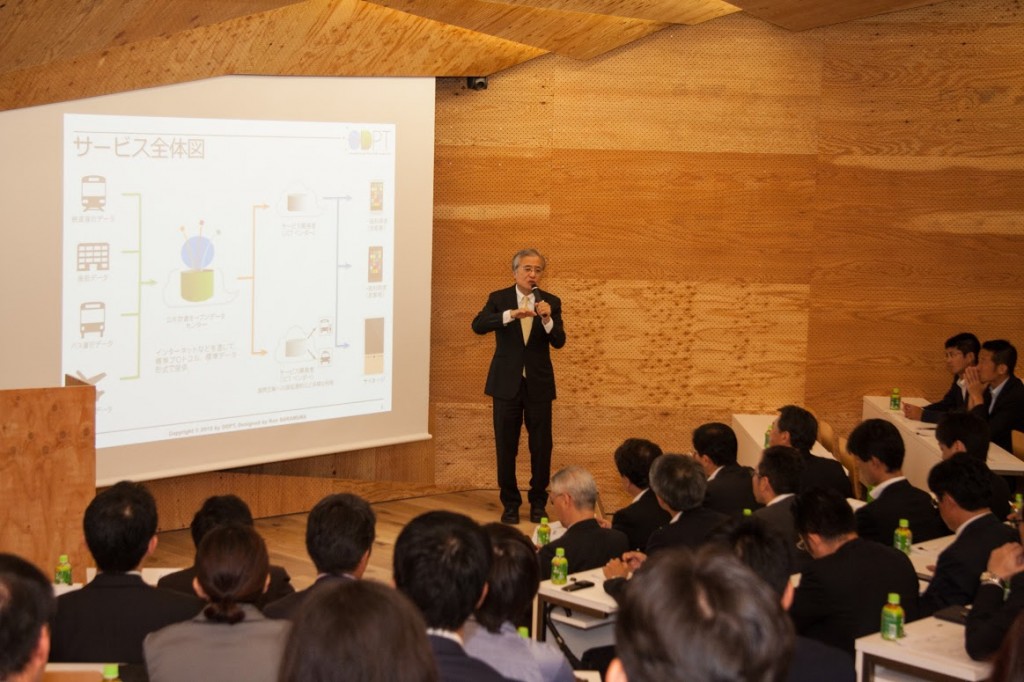 Thirty organizations including public transportation operators and ICT-related companies have established Association for Open Data of Public Transportation (Chair: Ken Sakamura, professor of the University of Tokyo/Director of YRP Ubiquitous Networking Laboratory). It is an industry-government-academia association to promote the practical use of the open data such as the information on the operation status of trains, buses, airplanes, etc. and the facility information at public transportation terminals such as train stations, bus stops and airports.
Ministry of Internal Affairs and Communications, Ministry of Land, Infrastructure, Transport and Tourism and Tokyo Metropolitan Government participate in the association as observers. The following four companies are the members of "Board of Directors" which operate the association.
Tokyo Metro Co., Ltd. (Koichi Murao, Senior Managing Director)
NEC Corporation  (Hiroshi Hashimoto)
East Japan Railway Company (Atsushi Oouchi, General Manager of Corporate Planning Headquarters Information Systems Planning Department)
FUJITSU LIMITED (Mitsutoshi Hirono, Corporate Executive Officer)
Open data is data version of public infrastructure: API to access highly public data, etc. is published, and such data is made available via network. With "open data" for public transportation service as a core, Association for Open Data of Public Transportation aims to build leading-edge next generation public transportation information services based on the outputs of the research and development (R&D) of "Study Group of Open Data for Public Transportation." The association also aims to conduct R&D on standard platform of the above services, and to propose input to policy making of public transportation. The association hopes to play a leading role in providing open data information services which contributes to smooth public transportation service during 2020 Tokyo Olympic and Paralympic games.
Through publishing the data owned by the member organizations as open data, the association promotes the realization and practical use of the following information services:
real-time operation status information based on the actual operation status,
multilingual information for international visitors in Tokyo, a cosmopolitan city, and
information for physically-challenged people and elderly people.
(※1) The 31 organizations participating in Association for Open Data of Public Transportation (in alphabetical order)
Observers
Ministry of Internal Affairs and Communications
Ministry of Land, Infrastructure, Transport and Tourism
Tokyo Metropolitan Government