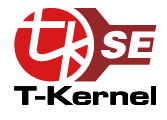 T-Kernel Standard Extension is an extension (extension program) to enhance the functionality of T-Kernel.
TKSE supports the process-based programming models while maintaining the real-time performance of T-Kernel.
Complicated software can be implemented as an easy-to-understand program by designing it as the combination of independent processes. Process programming affords us to improve the development efficiency, reliability, portability, and maintainability of large-scale applications significantly.
TKSE is suitable for advanced embedded systems such as information terminals, car navigation systems, and digital home appliances.
T-Kernel Standard Extension Specification and Source Code
The following specifications and source codes are released on the TRON Forum website.