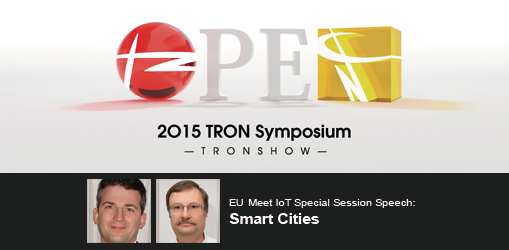 Date: 2015/12/09 15:45 - 16:45
Content:
Meet IoT is an event that became of primary importance in the IoT domain. His main role is to show how the research world and the technological progress in this field could be used by everyday applications and services, and to outline the impact that these new technologies bear on social life.
The first two editions of Meet IoT were held in 2014 (Rome) and 2015 (Torino). As the IoT domain is large, Meet IoT events will focus on a specific target. The first one of these new events, held during TRONSHOW, will be about Smart Cities, and in particular how these technologies can impact large events such as Olympic Games.
Coordinator:
Dr. Alessandro Bassi(Alessandro Bassi Consulting, Meet-IoT Member)
Presenters: 
Presenters: Adam Kapovits (RERUM Project, Europe) 
Rio de Janeiro, Brazil
† Simultaneous Interpretation
https://www.tron.org/tronshow/2015/regist/schedule/?lang=en#6
---
2O15 TRON Symposium
http://www.tronshow.org/index-e.html