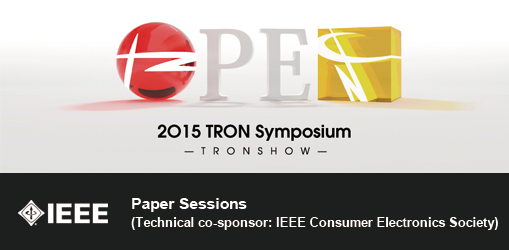 Date: 2015/12/10 10:15 - 12:30
FULL Paper Session
"A Real-Time hypervisor for embedded systems with hardware virtualization support"
Takumi Shimada (The University of Tokyo) , et al.
"A Real-time Health Monitoring and Warning System"
Ittipong Khemapech (University of the Thai Chamber of Commerce)
"Overcoming Invasion of Privacy in Smart Home Environment with Synthetic Packet Injection"
Wei Dai (University of Arkansas at Little Rock, USA), et. al.
SHORT Paper Session
"Design Framework for the Internet of Things with an Application in Dynamic Healthcare"
Andi Sudjana Putra (National University of Singapore), et. al.
"EPDL: A Context-based Energy Management Policy Description Language for IoT-enabled Smart Buildings"
Xiaohui Peng (The University of Tokyo), et. al.
"Home Safety Management System for Household Resident with IoT"
Seonki Jeon (Chung-Ang University, Korea), et. al.
† The entire sessions including the presentations and Q&A are conducted in English.
https://www.tron.org/tronshow/2015/regist/schedule/?lang=en#2
---
2O15 TRON Symposium
http://www.tronshow.org/index-e.html