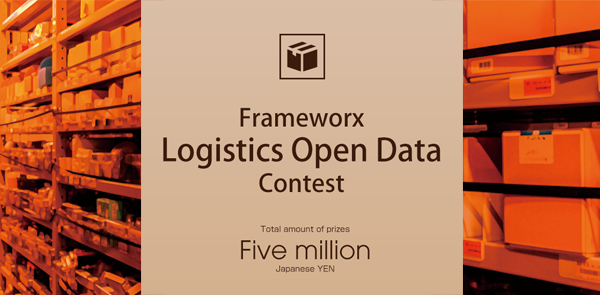 Total amount of prizes: Five million Japanese YEN
Application period:Monday, April 18, 2016 - Monday, July 18, 2016.
---
Overview
The data related to logistics of Frameworx, Inc. is released as open data, and new proposals to logistics in the IoT age are called for from developers, researchers, students, etc. widely. 
Open data is a movement of publishing to the general public the data that organizations have held internally in forms that can be used directly by computer programs through the Internet. In United Kingdom and USA where the open data movement has taken root, many parties including individuals have developed applications that use open data. Various applications which are beyond the imagination of the original organizations that held the data internally are now born and the positive effect to new innovations has now been proven.
In Japan, the national government and regional governments have taken up the open data movement gradually. However, the open data movement in private sector is still limited to public transportation sector, etc. This open data contest held by Frameworx, Inc. addresses the warehousing and logistics and this is a rather rare target of open data contest in the world, not to mention Japan.
The rise of mail order via the Internet has deepened the relation between the Internet, warehousing and distribution, i.e. logistics. In the IoT paradigm that advances the ties between the real world and the virtual world, the logistics is a hot topic. This contest is held to solicit hitherto unanticipated novel possibilities in this application field.
Aside from the contest categories of "Business Category" and "Study Category" that aim at immediate benefits such as efficiency improvement and innovative ideas this contest has created "General, Education, and Game Category" separately so that more people get to know and understand the field of warehousing and distribution better in sync with "Logis-Tech 2016 Tokyo" held in September 2016. This is a unique contribution of this contest.
Organizer: Frameworx, Inc.
Co-sponsor: YRP Ubiquitous Networking Laboratory
Cooperation: Institute of Infrastructure Application of Ubiquitous Computing, Interfaculty Initiative in Information Studies, Graduate School, the University of Tokyo.
Supporting Organizations: Daiwa House Industry Co., Ltd. / Daiwa Logistics Co., Ltd. / Trusco Nakayama Corporation / National Institute of Advanced Industrial Science and Technology(AIST) TBD / Microbase Inc.
Contest Categories
The contest calls for smartphone apps, web services, gadgets, and study reports in the following three categories.
Business Category
Useful applications for the logistics tasks, and useful applications for managing warehouses are requested.
Study Category
Study reports on economy, transportation, etc. based on the data of warehouses and logistics, and applications that are useful for conducting such studies are requested.
General, Education, and Game Category
Apps for general consumers, apps useful for social study and for training new recruits in logistics industry, games and edutainment that use the data of warehouses and logistics are requested.
Schedule
Application period: Monday, April 18, 2016 - Monday, July 18, 2016 (23:59 JST)
Awards ceremony: September 2016 (tentative)
Selection
Judging meeting will be held by the following judges.
Ken Sakamura (Professor of the University of Tokyo) Chief Judge
Jun'ichi Akiba (President of Frameworx, Inc.)
Osamu Ogasawara (Fellow of SAKURA internet Inc.)
Tatsuya Urakawa (Managing Executive Officer of Daiwa House Industry Co., Ltd.)
Prizes
Total amount of prizes will be five million Japanese YEN.
First Prize: Two million yen
Second Prizes: 500,000 yen x 4 entries
Honorable mentions: 100,000 yen x 10 entries (TBD)
Open Data to Be Released
The following data related to the logistic system of Frameworx, Inc. will be released to those who register as contestant.
Warehouse data
The data of the sort/picking work in the real warehouse of Trusco Nakayama Corporation including the data of warehouse management system "iWMS" of Frameworx, Inc. mainly will be released. Additionally, worker's position information by PDR (Pedestrian Dead-Reckoning) technology of National Institute of Advanced Industrial Science and Technology, vital data collected by wearable devices, data from environmental sensors, etc. will be released.
Logistics data
The record acquired from a digital tachometers of the real distribution trucks of Daiwa Logistics Co., Ltd. will be released. The data is updated daily during the contest period including information of the real positions of the delivery trucks.
The data of the estimated times of arrival in logistics extracted from real-time freight movement management system "iLTS" of Frameworx, Inc. and the data of the real final arrival times will be released, too.
Area data
The configuration data of the logistics reachable area simulation soft "DF II glas" of Daiwa House Industry Co., Ltd. will be released.
18 types of statistics data shown in map meshes will be released: the data includes population by gender and age, population of over 15 years old by gender and marital status, type of households, number of households with particular number of members, etc
How to use the data will be published in "Frameworx Logistics Open Data Developers Site" once the application period begins.
Eligibility
Those who agree to the contest application rule can apply.
Any party including individuals, groups and corporations.
There is no restriction on nationality, age, resident area, etc. However, minor applicants need to obtain the permission of guardian.
It is possible for a single party (including a group, and/or a corporation) to submit two or more applications, and for a party to belong to two or more application groups.
Application Rules
The open data of Frameworx, Inc. shall be used.
The deliverable of the contest such as application, report, etc. must be released free of charge during the contest period.
Regarding iOS apps, ones that are submitted to Apple for approval by the deadline, and that are subsequently released will be eligible. The application corrected after the deadline is not eligible for the contest.
Details of the application method will be announced later.
Please send inquiries concerning the contest to the following:
Secretariat for Frameworx Logistics Open Data Contest
YRP Ubiquitous Networking Laboratory
E-mail: support@frameworxopendata.jp